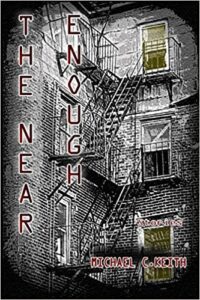 Buy on Amazon.com
"A variety of giggles and shivers."
Michael C. Keiths new collection "The Near Enough" is a treasure of stories and tales chocked full of great reads and surprises. His title story, "The Near Enough" is killer and is poignant a story as you'll ever read. Read Mixology and you'll never look at your bartender the same way again. That's Keith's magic; taking the simple and making it fascinating. He does it story after story, book after book. Open to any page, any story and I guarantee you'll be entertained by a thought provoking story. Michael Keith is a treasure amongst short story writers. Dig up a bit of his treasure and find out for yourself.  -Paul Beckman
#
There's this thrill you get when you open a book by one of your favorite authors and follow them on another amazing journey through time and space. That's exactly the feeling I got when I started to read Michael C. Keith's The Near Enough.
Having been a big fan of Keith for several years, I am always excited when he comes out with a new collection of short fiction. This award-winning author, who excels at his craft of writing short fiction, never disappoints.
I am constantly reminded of another one of my favorite authors, Ray Bradbury whenever I read Keith's fiction. There's something that happens between the span of 500-1,000 words that is truly amazing in the literary awakening that I feel when I read both of these authors. You know what I'm talking about? It's that feeling you get when you finish a story and go, "wow, that was incredible!" or "wow, I didn't see that coming!" Or it's the way a story stays with you long after you've finished reading it.
That's the way I always feel whenever I read one of Keith's stories.
There are plenty of stories in this collection that struck a chord and resonated deeply with me long after I finished this collection. There's the hauntingly brilliant and evocative "Trampled by Elephants in Thailand" which transcends cultural barriers and despite the humorous underpinnings to the title, is more about how share bad news; "Fish Story" which is simply brilliant; and my favorite, "One Hit Wonder" about a musician who, thanks to the miracle of You Tube has another shot at stardom; as always Keith is in top form when it comes to writing about the human condition.
Do yourself a favor and check out Michael C. Keith's latest. There is a reason why he is one of my favorite authors. The proof is in this collection. -Jeffrey Miller, Ice Cream Headache